Naturally Educational » 5-6 (Kindergarten), 5-6 (Kindergarten), 6-8 (Early Elementary), 6-8 (Early Elementary), 9-11 (Elementary), 9-11 (Elementary), Ecology, Featured, Science » Shark Week Kids Craft: Duct Tape Paper Cup Shark
We're kicking off shark week around here with a fun shark craft for kids. Sharks are the largest fish and are at the top of the oceanic food chain. These prehistoric predators have fascinated and frightened humans throughout the centuries.
Sharks are largely misunderstood and misrepresented in the media. Only four species of shark regularly attack humans. Compared with other animal attacks or water-related accidents, shark attacks are a very small risk.
We put together a paper cup and duct tape shark to help us learn more about shark anatomy and get the kids excited about studying sharks.
I am especially excited to share this with you because my daughter came up with the idea that turned this #CraftFail into a #Win. I initially painted the cups but when we started to add fins, the paint began to flake-off. I did not have any grey construction paper and had hoped adding glue to the paint would work…but no luck! Just when we were ready to give up, my daughter said, "We should have used duct tape!" She's the next Martha Stewart, I tell you!
Materials:
two paper or Styrofoam cups
duct tape
googly eyes
red construction paper
white construction paper
scissors
permanent marker
Directions:
1. Stack two cups with the top rims meeting. Wrap with duct tape.
2. Fold a length of duct tape in half and trace a dorsal fin, a caudal fin, and two pectoral fins. For older kids, you could also trace the second dorsal fin, anal fin, and pelvic fin. Cut out these fins and tape onto the body of the shark.
3. Trace the bottom of a cup on red paper. This will be the center of the mouth. On either side, draw lines from the top and bottom of the circle to meet at a point about two inches from the center of the circle (see below).
Cut out the shape along the outer lines. This will be the inside of the mouth.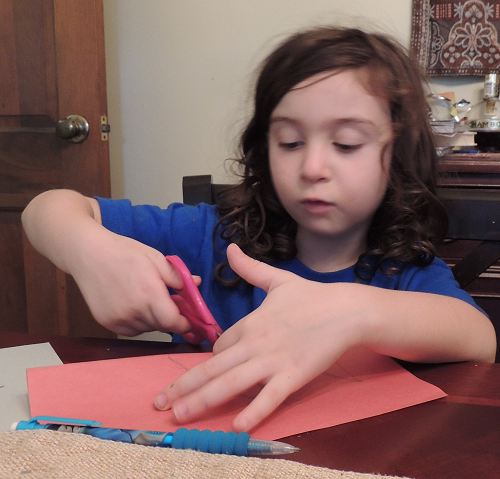 4. Do the same with a white piece of paper. Cut out the center of the white piece of paper and then cut out triangles along the top and bottom of the "jaws". My daughter purposely cut the two top teeth out to matcher her own toothless grin.
5. Glue on the mouth, jaws, and googly eyes. You can also add gills,  if you like, with a permanent marker.
That's it!
Another advantage of the duct tape is that it gives the shark's skin an interesting texture and it is more durable than a paper craft.
Educational Connections:
Biology: What are the differences and similarities between sharks and whales? Why is one a fish and the other a mammal? Create a Venn diagram. Label the parts of a shark. Find out more about Great White Sharks at National Geographic Kids.
Ecology: Create an ocean food chain with sharks at the top. Why are sharks important predators for the health of our oceans? As top predators, shark meat may contain a lot of mercury–why?
Culture: How are sharks depicted in our culture? Have sharks always been feared? Find and read myths and legends about sharks from other cultures.
Mathematics and Statistics: Graph the number of shark attacks on humans by shark species. Which species are involved in most attacks? Find out other occurrences that present a greater risk to humans. How do shark attacks compare to dog attacks? To drowning? To house fires?
Geography: Plot the location of shark attacks on a map. Where do most shark attacks occur? Why is that?
Find out what you can do to stay safe at the beach–from shark attacks but also from other, riskier dangers.

Filed under: 5-6 (Kindergarten), 5-6 (Kindergarten), 6-8 (Early Elementary), 6-8 (Early Elementary), 9-11 (Elementary), 9-11 (Elementary), Ecology, Featured, Science · Tags: Fish, Ocean, Sea, Sea Creatures, Sharks