Naturally Educational » 3-5 (Preschool), 3-5 (Preschool), 5-6 (Kindergarten), 5-6 (Kindergartners), 6-8 (Early Elementary), 6-8 (Early Elementary), Fall, Featured, History and Culture » Picture Books for Rosh Hashanah, Yom Kippur, and Sukkot
We enjoy exploring traditions from a number of cultures. Although we are a Christian family, I try to introduce my family's Jewish heritage to my children, as well.
We made a Sephardic apple compote, Mansanada, with our orchard-picked apples. And we have also been enjoying these picture books about Rosh Hashanah, Yom Kippur, and Sukkot. Each of these books explore ethical questions in the spirit of Jewish self-reflection and questioning. They are perfect springboards for discussions with children of any faith.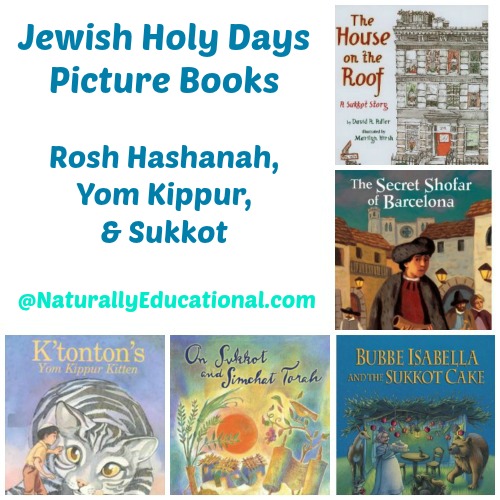 The Secret Shofar of Barcelona (High Holidays), by Jacqueline Dembar Greene, illustrated by Doug Chayka: In this striking story of courage, a boy blows the Shofar at his father's concert in honor of the Conquistadors. The book sparked an interesting discussion of the history of the Inquisition, whether or not we are obliged to follow unjust laws, having the courage of one's faith and convictions, and much, much more. A postscript explains how much of the book is fact, what parts are legend, and which ideas are the author's invention.
K'tonton's Yom Kippur kitten, by Sadie Rose Weilerstein, illustrated by Joe Boddy: This is our first introduction to the Jewish thumbling, K'tonton. K'tonton  spills a cup of honey and allows a stray kitten to take the blame. This book allowed us to talk about atonement and restorative justice. It is one thing to feel bad about mistakes but it takes a special sort of courage to fix them. The book is out of print so try your library or favorite used bookseller.
Bubbe Isabella and the Sukkot Cake, by Kelly Terwilliger, illustrated by Phyllis Homting: We really enjoyed this special story about sharing at Sukkot. Although simple, I appreciated the emphasis on sharing time and attention, over the importance of material goods.
The House on the Roof: A Sukkot Story, by David A. Adler, illustrated by pictures by Marilyn Hirsh: In this story, a man builds a sukkah (a shack in remembrance of the temporary shelters built during the Exodus from Egypt) on his apartment building roof. The landlady objects and takes him to court but the judge takes pity on the man and gives him enough time to finish his celebration. The story ends rather abruptly and has some mixed messages. The landlady seems generally peevish but does have a valid point about her responsibility if anyone should get hurt on the roof.  I am including it because of the discussion we had about the lengths people go to in order to preserve their culture and traditions.
On Sukkot and Simchat Torah, by Cathy Goldberg Fishman, illustrated by Melanie Hall: Told as a narrative of the celebrations through the eyes of a child. We gleaned quite a bit of factual information from this book and enjoyed the illustrations.

Filed under: 3-5 (Preschool), 3-5 (Preschool), 5-6 (Kindergarten), 5-6 (Kindergartners), 6-8 (Early Elementary), 6-8 (Early Elementary), Fall, Featured, History and Culture · Tags: Judaism, Rosh Hashanah, Sukkot, Yom Kippur