Naturally Educational » Charity » Crafters Don't Have Time for Arthritis Pain
My Granny passed away on the last day of 2009. I miss her so very much but I know that she was in a lot of pain during her final years.  Disease and old age is what finally took her from us but, even before that, she endured a lot of pain from arthritis.
You might wonder why I am sharing this on my educational site. A lot of my memories of my Granny involve baking cookies, the rainbow of spools of thread in her sewing kit, cutting pieces of felt for crafts, and even her showing my toddler daughter how to write her name over and over again.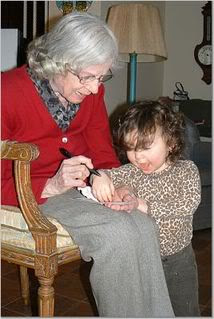 The same activities I write about doing with my children on this site–projects I hope to enjoy for many years with my children and, God willing, my children's children…and maybe even their children.
I can't let arthritis pain stop me. And I don't want it to stop you from enjoying your life and family, either.
So, I want to share some information I found out from Debbie, my co-editor at Mamanista:
World Arthritis Day is October 12, 2012. In partnership with the Ad Council, the Arthritis Foundation is trying to raise awareness about their Fight Arthritis Pain campaign.  The Arthritis Foundation stresses the importance of "movement" for those already fighting arthritis as well as those who simply want to take preventative steps to reduce the impact on their joints.

The Fight Arthritis Pain website encourages everyone to select and share their weapon against Arthritis pain. On weapons.fightarthritispain.org, you can see what weapons other users have suggested.
—
For more information, visit FightArthritisPain.org. If you aren't sure if you're at risk of developing Osteoarthritis (OA), you can take a free risk assessment here and then find tips on how to manage osteoarthritis pain or how to delay or even avoid the onset of OA symptoms at the Pain Tip App (tipshare.fightarthritispain.org). Join the #WorldArthritisDay conversation on Twitter or on Facebook.com/Arthritis.org.
I have donated the time and space for this post because this is a cause close to my heart and useful information for my readers.

Filed under: Charity