Naturally Educational » 3-5 (Preschool), 3-5 (Preschool), 5-6 (Kindergarten), 5-6 (Kindergarten), 6-8 (Early Elementary), 6-8 (Early Elementary), 9-11 (Elementary), 9-11 (Elementary), Fall, Featured, History and Culture » Yarn Art Pumpkin Halloween Craft
We have some favorite Halloween crafts we do almost every year and we also try to add some new ones in. In the past, we made a a yarn pumpkin molded around a balloon. This year, we tried a flatter version of the craft, a Yarn Jack O' Lantern you can hang on a wall or window.
Materials
orange yarn
black paper
glue
green chenille stem (pipe cleaner)
wax paper
permanent marker
Directions:
1. Trace a pumpkin on a piece of wax paper.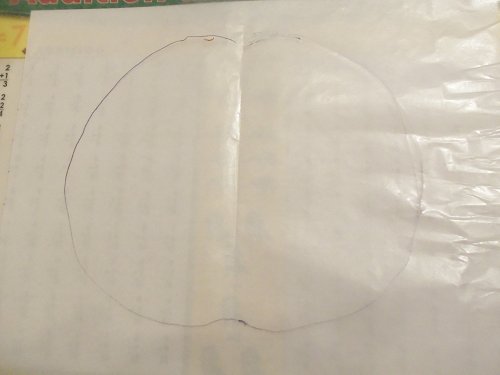 2. Soak a piece of orange yarn in glue and glue it around the perimeter of the pumpkin.
3. Cut about 10-12 lengths of yarn, close in length to the perimeter. Soak them in glue. You can add a little water to dilute the glue but do not overdo it because it will take longer to dry.
4. Lay each piece of yarn in random swirls in the center, taking care to overlap pieces with each other and the perimeter.
5. Trace a Jack O' Lantern face on black paper. Cut out the features and glue to the yarn.
6. Let the whole project dry. This may take 1-2 days. Carefully peel from the wax paper. Use the chenille stem to create a pumpkin stem and vine. Use fishing wire to hang and display.
Educational Connections
History: Examine how immigrants bring cultural traditions with them to their new homelands and how those traditions sometimes change.  Research the origin of the "jack-o-lantern". Why was the original one a turnip?
History and Culture: Research the history of the pumpkin, use by Native Americans, and how the pumpkin came to be associated with Halloween and Thanksgiving.
Science: Read about the life cycle of the pumpkin. Use photographs to make a chart.
Home Arts: Find out about the nutritional benefits of pumpkin and then try to make a few pumpkin treats!

Filed under: 3-5 (Preschool), 3-5 (Preschool), 5-6 (Kindergarten), 5-6 (Kindergarten), 6-8 (Early Elementary), 6-8 (Early Elementary), 9-11 (Elementary), 9-11 (Elementary), Fall, Featured, History and Culture · Tags: Halloween, Pumpkins