Naturally Educational » 1-2 (Toddler), 3-5 (Preschool), 5-6 (Kindergarten), 6-8 (Early Elementary), Featured, History and Culture, Winter » Rudolph and Friends: A Reindeer Footprint Craft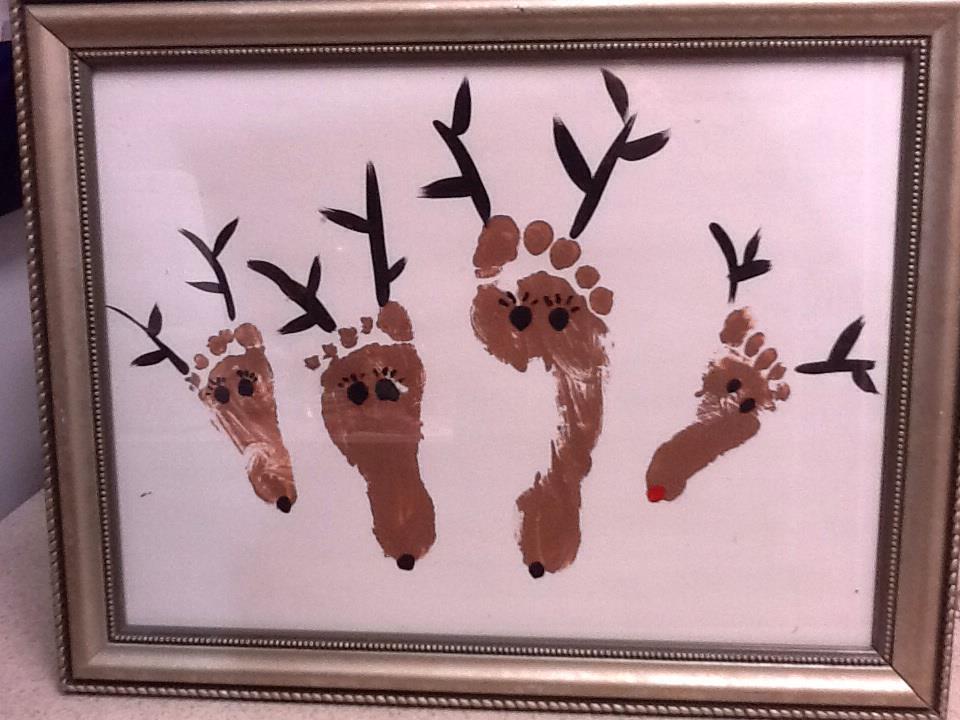 Holly, a friend of mine, posted this family reindeer footprint craft and was kind enough to allow me to share it with you. Isn't it adorable? If you are looking for a Christmas or winter craft to do this weekend, just get out your paints and feet and you'll have a sweet reindeer keepsake–you can even include Rudolph.
Materials:
brown, black, and red paint
white paper
frame (optional)
Directions:
1. Paint a foot of each family member with brown paint and press on the paper. Let dry.
2. Add antlers, eyes, and a nose with black paint. Optional: Paint the noses of the tiniest reindeer red for Rudolph!
3. I recommend adding the year and the family last name to your print.
Thank you, Holly, for letting me share your family's great project!
Educational Connections:
Science & Ecology: Research reindeer (aka Caribou). To what family of animals do they belong? Where are their habitats? For what purposes have people domesticated reindeer?
Literature: Read "The Night Before Christmas," the first time Santa's reindeer are named. What would you name your reindeer? If you were Santa, would you use magical flying reindeer or another method to travel around the world?

Filed under: 1-2 (Toddler), 3-5 (Preschool), 5-6 (Kindergarten), 6-8 (Early Elementary), Featured, History and Culture, Winter · Tags: Christmas, Reindeer