Naturally Educational » All Ages, Featured, Intrapersonal, Winter » New Year's Interviews with Your Children
Our children change so much every year and I wish I could bottle up a little of this precious time with them. Despite my compulsive documenting through photographs and notes, the days fly by. One fun tradition is to interview the children every year at New Year's. I think I originally saw this idea from Amy at TeachMama.com.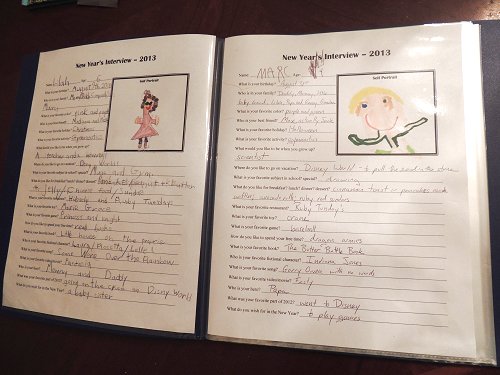 I asked the kids about their favorite color, their favorite activities, their favorite memories, and more. I also asked them to each draw a self-portrait. And I will preserve these in a presentation book so we can look back each year.
Some of the highlights from this year's:
The kids both really like to go to Disney.  My guy's hero is his papa (my father). The little guy's favorite fictional character is Indiana Jones (he had never seen the movie but this prompted my husband to show him the boulder scene). My daughter wants to be a mommy and a teacher and my son wants to be a scientist. My daughter's favorite book is "The Little House on the Prairie." In his spare time, my son likes to play "dragon armies."
Here is my New Year's Interview as a Word Doc so you can edit it to fit your own needs.
Best wishes for 2013!

Filed under: All Ages, Featured, Intrapersonal, Winter · Tags: Journaling, New Year's