Naturally Educational » 3-5 (Preschool), 3-5 (Preschool), 5-6 (Kindergarten), 5-6 (Kindergarten), 6-8 (Early Elementary), 6-8 (Early Elementary), Ecology, Featured, Science » Pine Cone Bird Craft
Even before my eldest could talk, she loved birds. I admit, I did not know much about birds before my kids came along, but I've learned a lot along with them.
For my daughter's Daisy troop, we made these pine cone song birds. My son wanted to make one, too! Next month, February, is National Backyard Bird Feeding Month and this is a cute little craft to do with kids.
Materials
pine cone
googly eyes
feathers
paint
glitter (optional)
tacky glue
glue dots
orange and/or yellow felt
scissors
Directions
1. Paint your pine cone.
2. Add glitter, if desired. In my experience, this is always desired.
Part of the fun of painting for my son is cleaning up afterwards.
3. While you are waiting for the pine cone to dry, cut out a beak and feet (the feet should be attached together, this will be your base).
4. Glue on the eyes, feathers, and beak. Leave the feet for last. In my experience, the feet won't stick with tacky glue because too much glue absorbs into the felt. You need either fabric glue, a glue gun, or glue dots. We use glue dots.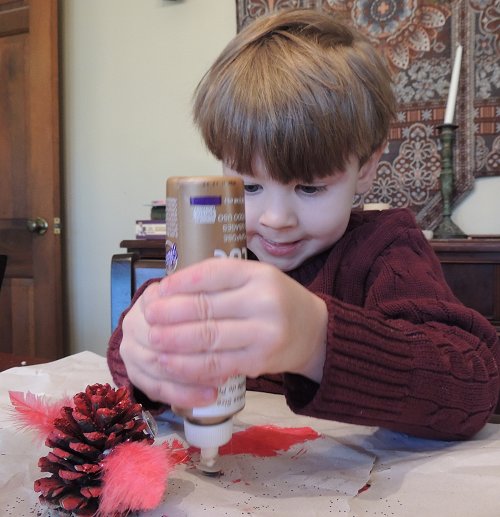 If you like, tie some fishing wire at the top so your bird can fly or be an ornament.
Educational Connections:
Ecology: Try to identify the birds in your backyard. Find out how you can help backyard birds by keeping cats indoors, feeding the birds year-round, and planting native plants that provide food, homes, and cover for birds.
Music: Learn the different calls and songs of backyard songbirds. Try making music like the birds.
Math: Count the birds in your backyard–check out the Great Backyard Bird Count.
Science: How are birds able to fly?

Filed under: 3-5 (Preschool), 3-5 (Preschool), 5-6 (Kindergarten), 5-6 (Kindergarten), 6-8 (Early Elementary), 6-8 (Early Elementary), Ecology, Featured, Science · Tags: Birds, Pine Cones