Naturally Educational » 3-5 (Preschool), 3-5 (Preschool), 5-6 (Kindergarten), 5-6 (Kindergarten), 6-8 (Early Elementary), 6-8 (Early Elementary), Featured, Weather, Winter » Plastic Water Bottle and Tissue Paper Snowman
Both of my kids made this plastic bottle snowman craft in their classes this December. In their classes, they used a 2 liter soda bottle but I thought it would look neat with any sized bottle–you could make an entire family of plastic bottle snowmen from water bottles, sports drink bottles, soda bottles…any plastic bottle!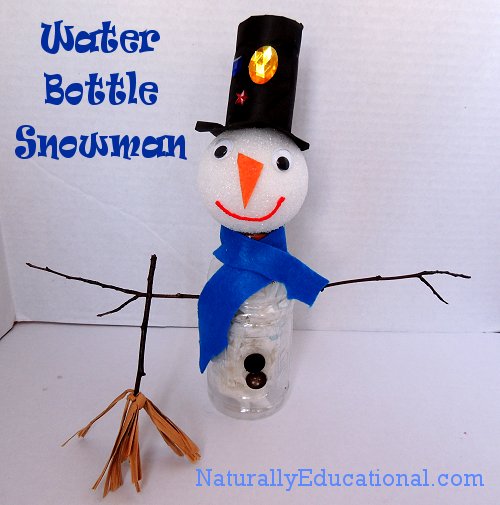 Materials:
plastic bottle with the label removed
white tissue paper or tissues
styrofoam ball (available in craft stores)
sticks or pipe cleaners/chenille stems (for arms)
toilet paper tube (for hat)
black construction paper (for hat)
orange felt or construction paper (for nose)
googly eyes
red or pink yarn or black construction paper (for mouth)
felt of any color
buttons or black construction paper
glue (tacky glue, glue dots)
scissors
Directions
1. Tear tissue paper. This is loads of fun!
2. Stuff the tissue paper into the bottle–great fine motor control activity!
3. Poke two holes into the sides of the bottle with a knife. (Adult step. I may give my kids scissors but I do not hand sharp knives to my preschool with instructions to stab things.)
4. "Screw" the Styrofoam ball onto the top of the water bottle.
5. Cut out scarf from felt, orange nose from felt or construction paper, yarn for mouth, etc. Glue on embellishments. We used tacky glue for most items but needed a glue dot for the scarf. This is an opportunity to make creative choices!
6. For the hat, we rolled a cardboard (toilet paper) tube in black construction paper an inch longer than the tube. Then, we folded in the top part of the construction paper. We traced a circle on some more construction paper and glued it to the bottom. This is our top hat. My son wanted to decorate it with jewels. I don't remember that part of Frosty the Snowman but, hey! it is his snowman and he can bedazzle its hat if he wants.
7. Stick two twigs into the holes in the bottle for arms. We had fun gathering the right twigs outside but you can also substitute chenille stems/pipe cleaners.
My son also wanted a broom so I took another twig and tied raffia around it.
Educational Connections:
Science: Why does it snow? What is the best kind of snow for building a snowman?

Art History: The earliest known illustration of the snowman is from the Book of Hours, c. 1380. During the Renaissance, snowmen were used in political commentary. Snowmen are accessible because anyone can get the material for free and they are also an example of temporary art. What other art can be made from freely available materials? What other types of temporary art can you find? (Check out the History of the Snowman)
Popular Culture: What snowmen do you know from popular culture? Why do snowmen seem so magical? What is the largest snowman on record?

Filed under: 3-5 (Preschool), 3-5 (Preschool), 5-6 (Kindergarten), 5-6 (Kindergarten), 6-8 (Early Elementary), 6-8 (Early Elementary), Featured, Weather, Winter · Tags: Snow, Snowman