Naturally Educational » 3-5 (Preschool), 5-6 (Kindergarten), 5-6 (Kindergarten), 6-8 (Early Elementary), 6-8 (Early Elementary), 9-11 (Elementary), 9-11 (Elementary), Bodily-kinesthetic, Featured, Science » Create your own Dinosaur Fossils
At a recent trip to the American Museum of Natural History, we say this Dinosaur Skeleton Fossil Playset and I claimed it as my own souvenir when my boys opted for Safari Dinosaur figurines instead.
I immediately thought it would be lots of fun to try to identify our dinosaur fossils and make impressions of them on play dough for a dinosaur fossil craft and activity. Our kids are definitely paleontology fanatics. The two older kids pick Prehistoric Park when they get to watch a movie and then spend all week pretending to trap prehistoric animals and bring them back to our time to save them from extinction.
First, we matched our dinosaur fossil figurines with the dinosaurs on my son's Melissa & Doug Dinosaur Placemat. We like this one because it groups some of the more well-known dinosaurs by their era.
Pressing the fossil figurines into play dough worked really well. My son added some dinosaur footprints, too.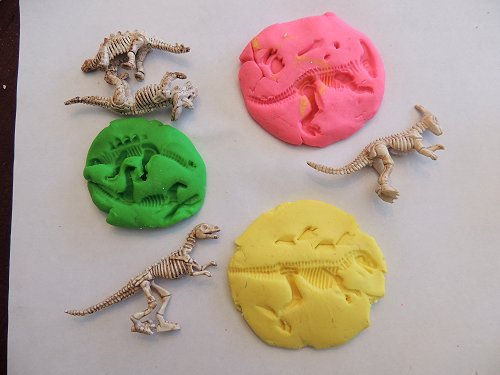 They wanted to make more permanent fossils so I made a batch of salt ceramic. That didn't really show the shape as well as I had hoped, so I bought some model magic the next day and we made a few more fossils.
The kids really enjoyed having some dinosaurs posed as if they were fighting.
We used a straw to create a hole and then added a ribbon when our fossils were done drying so the kids can hang them in their rooms.
Educational Connections:
Science/Paleontology: The dinosaurs lived long before there were humans.  How do we know anything about them? What part of the dinosaur was most likely to become fossilized? How do paleontologists find and excavate dinosaur fossils? What can we tell from their fossils?
Science/Paleontology: Different dinosaurs lived in various eras. Which dinosaurs lived at the same time? Did any dinosaurs live at the same time as humans?
Science/Paleontology:What did different dinosaurs eat? What is meant by the terms carnivore and herbivore?
Science/Paleontology: What defenses did the various dinosaurs have? Can you find evidence of these in their fossils?

Filed under: 3-5 (Preschool), 5-6 (Kindergarten), 5-6 (Kindergarten), 6-8 (Early Elementary), 6-8 (Early Elementary), 9-11 (Elementary), 9-11 (Elementary), Bodily-kinesthetic, Featured, Science · Tags: Dinosaurs, Fossils