Naturally Educational » Me » We're Going to Disney Social Media Moms 2013! #DisneySMMoms
Everyone's favorite mouse has been kind enough to host my family on his newest cruise ships the last two years. This year, after a very rough late fall / early winter for me health-wise, I received a little pixie dust in my e-mail…an invitation to the Disney Social Media Moms celebration!
I couldn't be more thrilled to learn more, hang out with lots of cool bloggers, and enjoy the parks with my family.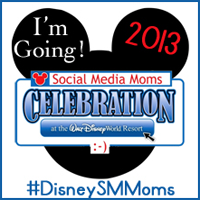 (Button designed by Tiany Davis of The Homeschool Lounge)
We shared with the kids through a scavenger hunt (a great way to build reading and reasoning skills…I'm sneaky like that) and I think they were a bit in shock.
Their initial reaction was a bit "deer in the headlights" but after I stopped taping, they started squealing.
I can't wait to share what we learn at Disney!

Filed under: Me · Tags: #DisneySMMoms, Disney, Travel, Vacations