Naturally Educational » Common Core, Mathematics » Perfect Illustration of the Issues with Common Core Elementary Mathematics
In the past, I've written about the Common Core from the perspective of its inevitable arrival and how we can help prepare our kids. I've also written about some of my objections to the Common Core elementary mathematics standards.
I couldn't resist sharing this video, which should be required viewing. Please watch this clever little girl trying to show her mom how to solve a mathematics problem the way she is taught in class. Based on the work she is doing, I'd say she is either at the end of second grade or the beginning of third.
To be clear, I completely support the use of math manipulatives in instructions. Using cubes, sheets, lines, and blocks in class for a one or two-lesson, hands-on exploration of place value makes complete sense! I've also used dollar bills, dimes, and pennies to teach place value and re-grouping.
However, making a child draw hundreds of these to solve dozens of addition problems for weeks on end is absurd. The kids who get it are bored after one day…and the kids who don't are so frustrated.
This little girl, who obviously gets it and is exactly the kid we want to love STEM, still gets the wrong answer after taking 8 minutes to solve a problem. Using the traditional "stacking" method of addition, she solves it correctly in seconds. By forcing her to draw math manipulatives to solve addition problems, she's learned something…but it isn't abstract mathematical thinking. She's learned that math is confusing and too hard for her! So, do we want children to think math is exciting and useful and totally doable…or do we want them to learn that it is boring slog through required repetitive tasks?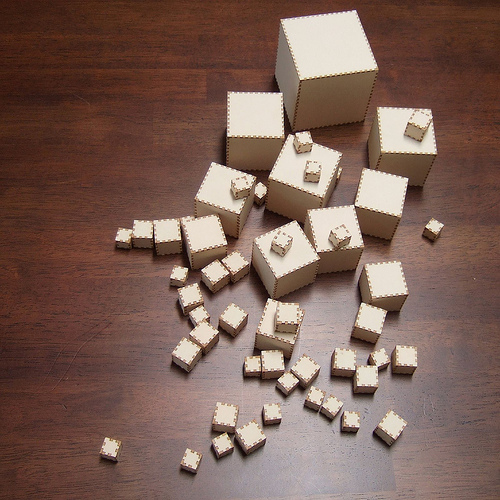 Image Credit: Jared Tarbell

Filed under: Common Core, Mathematics