Naturally Educational » Drop-Out, Intrapersonal, Values Education » Resilience and Academic Integrity at Monsters University #DisneySMMoms
When we were invited to a sneak-peek screening of Monsters University at the Disney Social Media Moms Conference, I was expecting an entertaining, perhaps even clever prequel to the fun Monsters, Inc. At most, I was worried that the college humor would go over the heads of my young kids. I was not expecting to have a conversation with my six year old about resilience and academic integrity.
With Monsters University back in theaters for Labor Day Weekend, I thought this might be a good idea to explore some of these complex issues.
Obviously, spoilers will abound. So, do not keep reading if you do not want to know key plot points, including the ending.
Monsters University immediately sets up a conflict between natural talent (represented by the giant blue legacy student, Sully) and hard work (represented by Mike Wazowski), showing how the first can be squandered and how the second may not always be enough.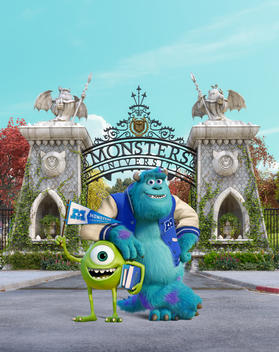 The close of the movie is a classic trope–the misfits band together to pull off a win, save themselves from the plotting of the jocks, prove their worth to the dean, and win the adoration of their classmates. Except, this time, the ending is not so simple. Mike discovered that his Oozma Kappa brothers only won the Scare Games because Sully cheated on his behalf.
Disillusioned, betrayed, and defeated, Mike takes a huge risk to prove himself. Sully decides to confesses to the Dean.
In most kids' movies, Mike's bravery, Sully's honesty, and their teamwork would undo the damage they had done by breaking the rules. Instead, they have to accept the consequences of their actions. Both are expelled but not before formidable Dean Hardscrabble admits they surprised her and wishes them luck.
In a quick montage, we then see Mike and Sully find their happy ending as they literally work their way up from the mailroom to becoming top scarers at Monsters, Inc.
My children watch very few movies and this was actually the first movie they had seen in the theater. I think it made quite an impression and opened up a conversation that will continue throughout their schooling and their lives.
My daughter was heartbroken that Mike did not get to fulfill his lifelong dream of graduating Monsters University.
We talked about how, especially as you become an adult, that there are some mistakes that you cannot just fix with an apology.
We discussed cheating and academic integrity policies and whether or not Dean Hardscrabble should have made an exception.
We talked about accepting the consequences of your actions and how integrity is even more important than success.
And we also talked about how no mistake, no matter how huge, is the end of the world.
We thought about how this mistake was an opportunity to learn.
Finally, we talked about fighting for your dreams, no matter how hard you have to work.
Deep, challenging stuff for a kids' movie, even for Pixar.
—
Disclosure: As an invited guest of everyone's favorite mouse at the Disney Social Media Moms Celebration 2013, for a small conference fee I received, in addition to access to the conference, a host of other magical gifts (including a free sneak preview screening of Monsters University) to facilitate my learning and enjoyment of Disney World Parks with my family. I paid for my own transportation to and from Florida as well as for follow-on accommodations after the conference. As always, my time can be hired but not my opinions are not for sale.

Filed under: Drop-Out, Intrapersonal, Values Education · Tags: #DisneySMMoms, Disney, Monsters University, Pixar