Naturally Educational » 5-6 (Kindergarten), 6-8 (Early Elementary), Featured, Intrapersonal » Daisy Girl Scout Crafts and Activities for Earning Petals
What are your favorite ideas for earning Daisy Girl Scout Petals? I led my daughter's Daisy Troop the past two years, with lots of help from a co-leader and some other parents, and we had a great time! As a new leader, however, I often struggled with planning out the year and figuring out requirements. Through the help of the council website and Google, though, we managed to piece things together.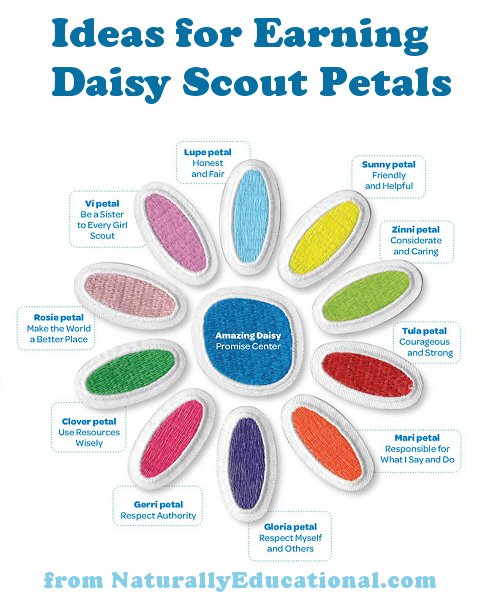 Here is a list of the way we earned our petals in the first year and the ways the girls made up missed petals and the new girls earned their petals the second year (while we also completed the 5 FLOWERS, 4 STORIES, 3 CHEERS FOR ANIMALS! JOURNEY BOOK…more info on that, soon).
Most of these activities are self-explanatory but I will also link to crafts if/when I post them on the site.
If you have ideas you want to add, please let me know in the comments and I will edit the post every so often!
Blue Center – Girl Scout Promise
Light Blue – Honest & Fair
First Year: We made beaded bracelets with beads the colors of the petals. The girls had to be fair and share supplies.
Second Year: Shared supplies and took turns pouring/mixing to make doggy biscuits for shelter pets. (Also our Red Robin Journey Project)
Yellow – Friendly & Helpful
First Year: Interviewed a Daisy Friend and learned how to say, "Hello," in many languages
Second Year: Made a "Smile Pack" to give to a friend
Spring Green – Considerate & Caring
First Year: Made Valentines for Veterans
Second Year: Hosted a food and clothing drive for local hurricane victims.
Red – Courageous and strong
First Year: Went to a Karate Dojo for a class and learned about standing up to bullies.
Second Year: Made lion masks and drew pictures of when we had been courageous and strong.
Orange – Responsible for what I say and do
First Year: Made chore charts
Second Year: Baked the doggy biscuits we had made at home and returned them to the troop leader to be given to shelter pets. (Also our Red Robin Journey Project)
Purple – Respect myself and others
First Year: Made soaps
Second Year: Made trail mix for ourselves and pine cone bird feeders for our feathered friends
Second Year: Went on a nature walk and observed the ways in which we have the same needs as animals (food, water, shelter, exercise…and in some cases affection and play)
Magenta – Respect authority
First Year: Had a father who was a police officer visit
Second Year: Visited a Brownie Troop (preparation for bridging)
Green – Use resources wisely
First Year: Made reusable market bags with fabric markers and a daisy stencil
First Year: Decorated a planter and planted a sunflower seed
Second Year: Made bracelets from cardboard tubes and magazine strips
Second Year: Make animal origami (swan) from old magazine pages
Rose – Make the world a better place
First Year: Beach clean-up
Second Year: Made no-sew fleece blankets and dog biscuits for a local pet rescue shelter. (Also our Red Robin Journey Project)
Violet – Be a sister to every Girl Scout
First Year: Made SWAPS to trade at an end of the year party.
Second Year: Hosted a younger Daisy troop. (part of our Bridging requirement; made "bath fizzies" at the meeting)

Filed under: 5-6 (Kindergarten), 6-8 (Early Elementary), Featured, Intrapersonal · Tags: Daisy Girl Scouts, Girl Scouts