Naturally Educational » Literacy, Technology » Literacy and Technology with LeVar Burton and @NGKids #NGKInsider
National Geographic Kids got me and some of my fellow "National Geographic Kids Insiders" on the phone with LeVar Burton (of Reading Rainbow, Star Trek, and many other initiatives and projects) to talk about literacy and technology.
Before heading over to our chat, LeVar Burton was taking pictures of the National Geographic Beehive for the Great Nature Project–can't wait to see his photos!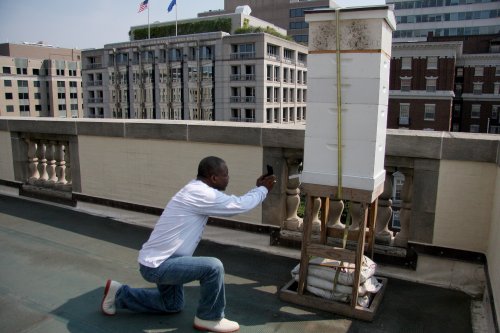 When he arrived, he was charmingly enthusiastic to have bumped into Oceanographer and Explorer, Sylvia Earle, as well as to chat with us.
—Our Interview with LeVar Burton—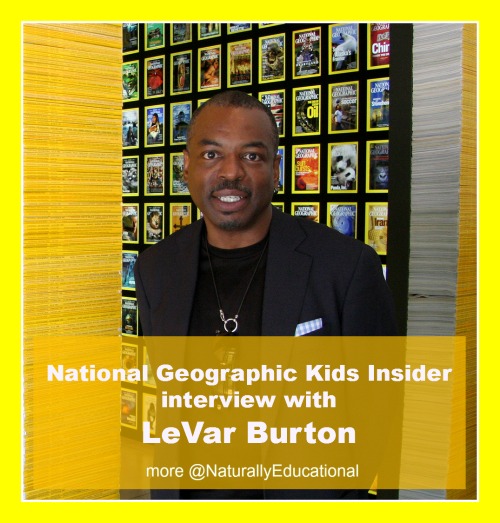 Robyn Good, Celeb Baby Laundry: You spent over 30 years sparking kids' interest in reading…how do you inspire your own kids?
We did a lot of reading to the kids, and a lot of reading in front of the kids. I think that is an equally important message…that reading is a natural part of every day life, much the same as breathing. I think not enough emphasis is placed on the reading you do in front of your children, in addition to the reading that you do to them.



Kathy Dalton, Adventure Mom: How do we embrace technology instead of competing with it in encouraging children to read?
These tablet devices are so engaging. I find that my iPad is the best tool I ever had and its the most fun toy I ever owned. You cannot beat that combination. I carry a library around on my iPad. Not that I've stop reading print on paper…it's just so much more convenient to read electronically. Sooner or later, I believe, we're going to recognize that it is unsustainable to continue to tear down trees to make books. We're going to be consuming most of our reading on electronic devices going forward. I don't care what it is on, I simply want kids to read. I have experienced as a child my world opening up to degrees that astonished me simply by opening up the pages of books. I have tried to communicate my enthusiasm for literature and the written word, certainly through the reading rainbow work, but through most everything I do.



Candace Lindemann, Naturally Educational: What do you believe is the biggest obstacle to near 100% literacy in our country and what steps can we take to address this?
Lack of political will to get it done. We are at a remarkable opportunity point with the intersection of technology and education…I believe if we fail to put a tablet in the hands of every child we will have failed in the biggest opportunity presented to mankind in the modern era.



Crystal Rapinchuk, Surviving a Teacher's Salary: What inspiration has shaped your passion for education?
My mother, Irma Jean Christian. She was my first teacher and she taught me how to read. My mother read not just to me, she read in front of me. It is that example, more than anything else, that is really responsible for my relationship with the written word.



Crystal: Did you ever dream that reading rainbow would span so many generations?
Reading Rainbow was originally a summer program, designed to address the summer loss phenomenon…a child right when they are cracking the code, if they don't read over that three month break, their reading comprehension skills suffer. The idea was in the 80s was that was where kids were hanging out in front of the TV. So, let's go back to the point of purchase and steer them back in the direction of the written word. The fact that we continued to be on the air for 26 years is amazing to me.



Kyran Pittman, Planting Dandelions: Any insights on boys losing interest in reading as they move up through the school system?
Boys are notoriously difficult to hook. And, you're right, the distractions are myriad these days. I think it is really important as a parent to remember to connect your child's passions to the literature in the world about that particular passion. If you want your kids to read, give them reading material about whatever it is they love. If your kid is so into video games that that occupies a large part of his world and that is his passion, then I would suggest incorporating reading material around that universe of gaming.



Niri Jaganth, Mommy Niri: How can we use books to make children more comfortable with their differences…and to make multiculturalism a part of daily life? How to raise kids in a multicultural society and normalize multiculturalism?
Living in a multicultural society is something we are all faced with in this world. The world is getting smaller and the population is getting more brown. I think, in years to come, we will all blend into a nice shade of cafe au lait and that wouldn't be a bad thing. Because multiculturalism is a prevalent part of our world these days, I know there is an attendant body of literature, addressing all age groups, about what it means to be multicultural and have those unique qualities all come together in a single entity, in a single human being. The best thing you can do to raise a multicultural child is to let them know how special they are and that their uniqueness goes far beyond the color of their skin.
One more thought: There's a lovely science fiction television show called Star Trek, which really does espouse the values and virtues of a multicultural society that is based on one's ability to do the job and how everyone is not only welcome but necessary for society to function in a sustainable way. I'm a big fan of Gene Roddenberry's vision of the future because it presented a world that I actually wanted to inhabit. It is crazy to have grown up and become a part of that storytelling ethos.



About the Reading Rainbow App: We are a mobile library of books and videos for kids who are learning how to crack the reading code. We are a subscription model for $5-10 / month, you have unlimited access to our library of over 300 book trips, and growing, and over 75 video field trips, and growing. We give kids an opportunity to find literature that they want to read based on themed islands. You are in the cockpit of your hot air balloon visiting these islands in the sky. We are most proud of is our Nat Geo Kids island, which has books and videos from National Geographic Kids [so] kids can become the next generation of explorers.



—
Disclosure: I am a National Geographic Kids Insider and receive special access and the occasional product sample. I have no obligations to National Geographic Kids and receive no monetary compensation as part of this program.

Photos by Christy Solberg/National Geographic

Filed under: Literacy, Technology · Tags: LaVar Burton, National Geographic, National Geographic Kids, National Geographic Kids Insider, Reading Rainbow