Naturally Educational » Academic Achievement, Common Core, Homework » 9 Ways to Keep Calm and Do Homework
My eldest is in second grade and my second child is a kindergartner. They love the school, the teacher, and their classmates. Homework, on the other hand, is quite the chore. After some tinkering, we learned to stop worrying and deal with (if not quite love) math homework.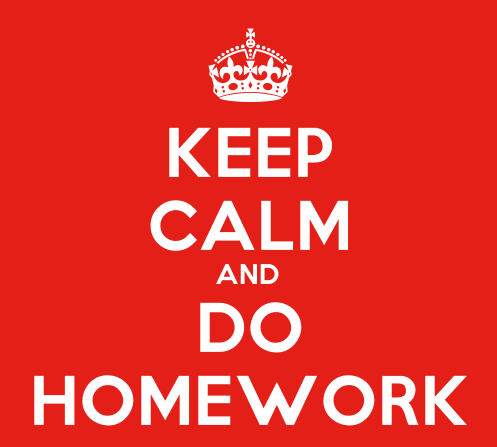 1. Get involved: Parent participation seems to be especially important with mathematics homework. Studies have also shown a link between a father's involvement and a daughter's continued interest in mathematics. The type of involvement matters, too. Ask questions like: "How are you solving this? What did the teacher show you in class? How else could you approach this? What would happen if? How would you check to see if you got the right answer?" By guiding kids rather than providing answers, you provide them with important critical thinking skills that will last far longer than a night's homework.
2. Create a homework routine: Kids should begin homework after a reasonable break to decompress from school and have a snack. Find a time when your kids are most receptive to learning. If they are tired or hungry, they are more likely to become frustrated.
3. Set-up a homework space: Choose a location that is conducive to work. For younger kids, this may be a more central location where you can help. Older kids may need a more quiet spot. All kids will need a well-lit and clean area that is free of distractions. Have all supplies within easy reach to reduce set-up times–I learned this after a few pre-homework meltdowns over missing pencils and erasers.
4. Set a timer: If kids are frustrated with work, they may be more relaxed if they know they can take a break after 20-30 minutes. Some schools even have policies about homework limits. If your child is struggling and goes beyond the policy limits or the guidelines of 10 minutes per grade level, discuss this with the teacher.
5. Reconsider your approach: Some mathematics skills, such as memorizing math facts, benefit from lots of practice. If a child is struggling with more conceptual ideas, however, repetition may just frustrate him. Check out some websites, pull out some math manipulatives or, try a more visual explanation.
6. Partner with the teacher: The new math standards have produced some questions that are worded in a confusing way. Your child may understand the concept and still struggle with the question format. The teacher can help you cut through some of the fog with your child. Chances are your kid is not the only one who is confused and that is important feedback for the teacher. The teacher may be stuck with certain curricula and worksheets but can draw on her experience to try other approaches.
7. Make it fun: Start a homework session with a math joke, find a puzzle or game that uses a concept from the homework, give out stars for time spent focusing on homework. Try to connect math with their interests in ways that don't seem like work. This will help kids when it comes time to get back to homework.
8. Do homework, too: If your child is doing math homework, show solidarity and be a good math role model by using that time to budget, pay bills, and balance the checkbook. If your child is reading, pull out your own book.
9. Put it in perspective: It is only homework, after all. Most teachers just want to see that students are making an effort. With younger students, the main benefits of homework are to keep parents in the loop and help teachers assess class and individual needs.
Some studies don't even show a correlation between time spent on homework and achievement until at least fourth grade. So, lower the stakes, set limits, and maintain a sense of humor.
—
Sponsored by The Digital Family Summit , the premiere and only conference for teen & tween bloggers and their families. Join a host of tween and teen bloggers, game creators, videomakers and entrepreneurs for a weekend of fun activities, interactive and hands-on workshops, thought leadership and personal guidance 10/11-10/13 at the Hilton Baltimore, right next to historic Camden Yards.  The workshops are geared towards tweens and teens ages 9+  and their parents, and activities will be available for younger kids aged 4-8.  Conference registration includes 6 meals, snacks, and all activities; (hotel not included).  Price is $179 per person- but use this special discount link for 30% off. DISCOUNT LINK
For more information, visit http://www.digitalfamilysummit.com and http://digitalfamilysummit2013.eventbrite.com/?discount=naturally_ed

Filed under: Academic Achievement, Common Core, Homework