Naturally Educational » 6-8 (Early Elementary), 6-8 (Early Elementary), 9-11 (Elementary), 9-11 (Elementary), Featured, History and Culture » Make an Almanac with Ben Franklin and Then Visit Philly
Philadelphia is like a living history book. We are hoping to take a road trip to Philly, soon, and one of our must-see destinations is the Benjamin Franklin Museum. In the meantime, we are exploring Benjamin Franklin at home.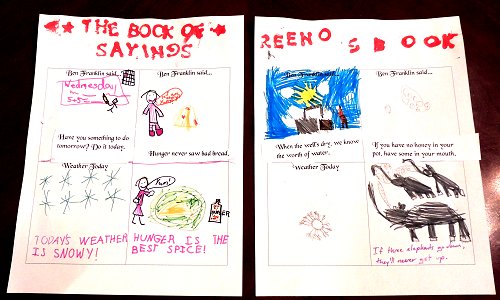 In honor of Ben Franklin's birthday (January 17), we made our own kid versions of Poor Richard's Almanac. I began by telling my children a little bit about Franklin's life but they already seemed to know plenty of details. Turns out my mother-in-law had already read them an old copy of The Value of Saving: The Story of Benjamin Franklin. So, they know all about Poor Richard's Almanac.
Then, we took turns reading and discussing a few of Ben Franklin's aphorisms.
The kids decided on titles for their almanacs and we prepared the "type" for printing.
I have noticed that children like to include text when they make prints but are usually surprised when the words come out mirrored. To make the words print correctly, we took foam letters and glued them on paper backwards. We inked the type with tempera paint. The kids discovered some of the challenges of printing–setting the type correctly (my daughter was amused by her backwards "G") and avoiding smearing the ink. Even just printing the title took some time to set up.
Then, the children selected two of Franklin's maxims to illustrate, added one of their own (or another they had heard), and reported on the weather.
You can learn more about Ben Franklin by reading a biography, recreating some of his famous inventions, making magic math squares, and visiting Philadelphia.
Educational Connections:
History: What role did Benjamin Franklin and Philadelphia play in the founding of the United States?
Technology/Science: How did Benjamin Franklin's printing press work? Why was printing so important in the War of Independence?
Technology/Science: What are some of Benjamin Franklin's inventions? Try to recreate one.
Mathematics: Make a magic square.
Values: What values did Benjamin Franklin frequently advocate in his sayings? With which maxims do you agree, and why?
Ben Franklin is Philadelphia's favorite founding father. To evoke Ben's wit, wisdom and joy year-round, visit his longtime home of Philadelphia. Learn more at visitphilly.com.
This is a sponsored conversation written by me on behalf of Visit Philadelphia. The opinions and text are all mine.

Filed under: 6-8 (Early Elementary), 6-8 (Early Elementary), 9-11 (Elementary), 9-11 (Elementary), Featured, History and Culture · Tags: Benjamin Franklin, Colonial America, Philadelphia, Revolutionary War, War of Independence