Naturally Educational » 1-2 (Toddlers), 3-5 (Preschool), 5-6 (Kindergarten), 6-8 (Early Elementary), 9-11 (Elementary), All Ages, Art, Featured, History and Culture » Cave Painting with Kids – Prehistoric Art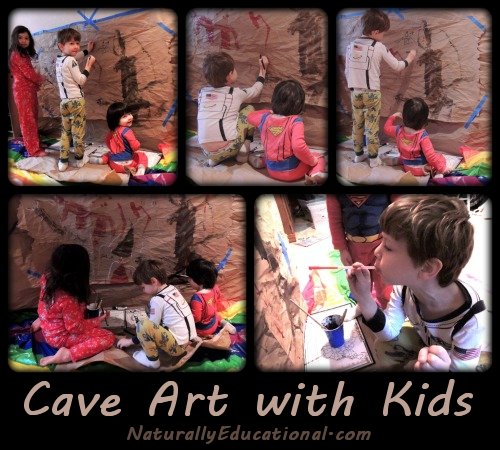 This is really a very simple activity.
First, we read about people in the Pleistocene Era and learned about their cave painting. We found out what types of animals were around at that time and the stone age peoples' relationships with the environment.
I taped some postal paper / kraft paper from a box on the wall with painters' tape. They also sell rolls of this brown paper if you prefer it less wrinkled or don't have any from a package. Personally, I think the wrinkled paper help mimics the uneven texture of cave walls.
I gave the kids some red and black paint and white chalk. You can also use brown and yellow paints. We were snowed in but I would have liked to have some charcoal, as well. We talked about the pigments that would have been available to the early people.
I also let the kids try blowing paint onto the paper with straws.
At one point, I also turned off the lights. We talked about how the art was made deep in the caves by the flickering light of oil lamps and how the painted animals would have moved as if alive. The kids really liked that part.
While they painted, the kids talked about why they thought stone age peoples painted these animals in caves. Were they stories? Animistic magic? Hunting rituals? No one knows for sure!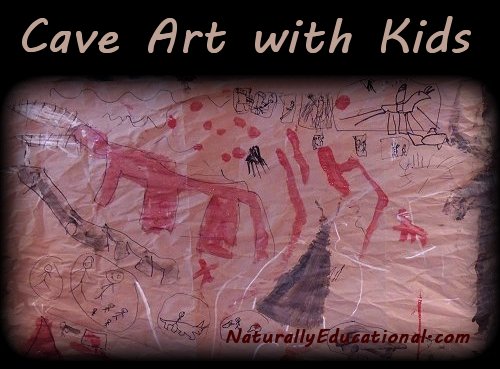 Educational Connections:
History: Create or examine a timeline showing the origins of man through modern day. This gives a perspective on the amount of time from the first modern men, through the Neolithic Revolution, through the first civilizations, through today.
Ecology: What animals lived during the Pleistocene? What animals became extinct? What role may have humanity or environmental factors played in their extinction?
Art History: The early artists used a twisted perspective to produce a composite view of the animals they painted. Why do art historians believe this is so? What materials did the cave painters use to produce their art? Why do you think these people painted? What does producing art say about these early humans?
—
Because I am a social studies educator and the topic seems to be getting short shrift in the current push for test scores, I am following the The Story of the World: History for the Classical Child: Volume 1: Ancient Times: From the Earliest Nomads to the Last Roman Emperor, Revised Edition to introduce my children to Ancient History and supplementing with outside texts and activities. My school-aged children attend school and so this is an "after-schooling" project for us.

Filed under: 1-2 (Toddlers), 3-5 (Preschool), 5-6 (Kindergarten), 6-8 (Early Elementary), 9-11 (Elementary), All Ages, Art, Featured, History and Culture · Tags: Cave Art, Early Humans, Neolithic, Pleistocene, Stone Age