Naturally Educational » Field Trips, History and Culture » Educational Vacation in Philadelphia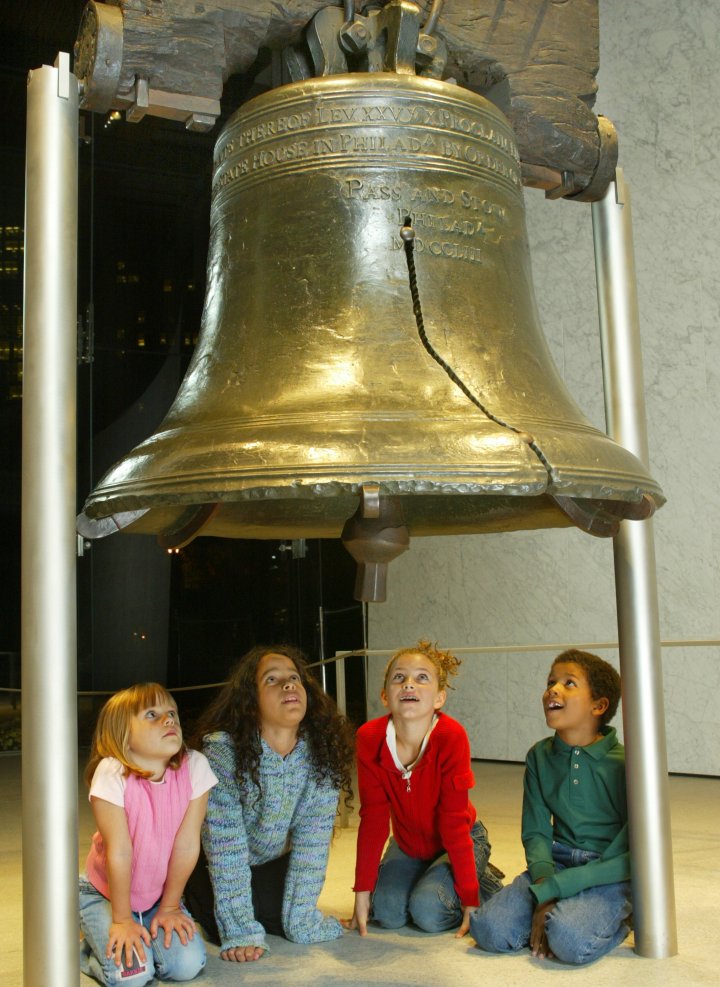 Vacations are learning experiences for kids and when you Visit Philly, you don't have to search hard to see the educational experiences.
Map Skills and Historic Philadelphia
The learning can start before you even leave for your trip–just pull up the maps on the Visit Philly website.
Taking a look at the Map of Philadelphia's Historic District, kids can find the compass pointing north, see that Philadelphia's streets are laid out on a grid, and locate and read the legend.
Together, the family can draw up a list of "must sees" for a walking tour of Historic Philadelphia.
Start at Independence National Historical Park, which includes the Liberty Bell Center, Independence Hall, Congress Hall, the New Hall Military Museum, Bishop White House and the Declaration House.
Work together to plot a route on the map. Make sure to identify restaurants along the way that the family will enjoy. Walking and learning are so much more fun on a full stomach!
Laying a piece of yarn along your route, how far would you walk if you complete your entire itinerary?
Living History
To get a full sense of Philadelphia's history, make sure to venture outside of the city center. Visit Pennsbury Manor, the recreated country estate of William Penn that's situated on 43 scenic acres along the Delaware River for craft demonstrations, costumed interpreters, interactive activities, gardens and stables of animals.
Valley Forge National Historical Park, another historic destination, includes Washington's Headquarters, replica soldiers' huts, monuments, statues and the Washington Memorial Chapel. Kids can learn about 18th century spy techniques so prepare for your visit by writing messages in invisible ink.
Philadelphia is an Art AND a Science
Philadelphia has a lot of history but the learning does not stop there!
You can find so many amazing art and science museum exhibits for children in Philadelphia that we're planning a road trip.
The centerpiece of our trip is the world-famous Please Touch Museum, which includes two full floors of interactive exhibit zones, plus a fully restored 100-year-old carousel.
Try to visit the Philadelphia Museum of Art on Sunday for special family tours and drawing and craft activities for children as young as newborns.
Right now, art and horticulture meet at the "ARTiculture" PHS Philadelphia Flower Show on March 1 to 9, 2014. "Beautiful flowers, gardens and landscapes have always been an inspiration and subject for artists. And great horticultural design is a form of living art."
The world class zoo and aquarium are also must-sees. Philadelphia Zoo is home to nearly 1,300 animals and a new wildlife academy and interactive children's zoo, KidZooU.
For a quirky animal-related learning experience, check out the Insectarium, one of the country's largest bug museums.
This is just a small sampling of the educational fun to be had in Philadelphia–find out more, and figure out where to stay at Visit Philly. Make sure to check out the Visit Philly Overnight Hotel Package (stay any two consecutive nights and your car stays for free)!
Photo Credits: R. Kennedy, B. Krist, M. Kennedy, and M. Edlow, for Visit Philadelphia™
Philadelphia is the perfect spot for a getaway! Stay for any two consecutive nights at one of twenty participating hotels and your car stays free! For more information and to book your room visitphilly.com/overnight.
This is a sponsored conversation written by me on behalf of Visit Philadelphia. The opinions and text are all mine.

Filed under: Field Trips, History and Culture · Tags: Philadelphia