Naturally Educational » Geography, Toys » Wallpops World Map (Review)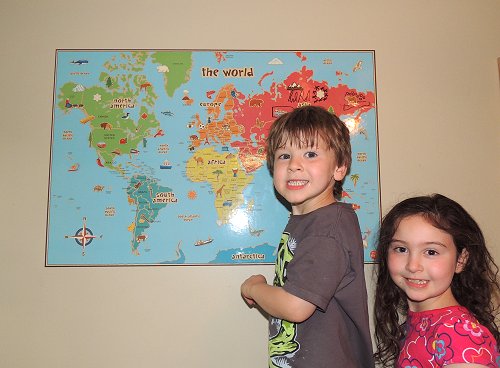 Usually I keep reviews on another site but this is one of the most educational items we use constantly in our household: Kids World Dry Erase Map. In fact, we've had this item for over a year and still use it almost every day.
I had purchased other world maps for the wall in the past but they often did not stick well to the wall and, when they did actually stick, the poster tape destroyed our paint.
Our Wallpops vinyl decal map sticks perfectly and we have even removed it once and put it back up with no problems–no chipped walls and the decal still sticks.
As an added bonus, the surface works with dry erase markers, so we can plot routes, add information to regions we are studying, circle places on the map, etc.
Of course, we use it for geography lessons. We also use it whenever the children are curious about where grandma is traveling now. We use it when making connections to history, literature, or even when we are eating out at a new restaurant.
Even when we are not studying something with the map, the kids go to it to explore and sometimes ask me questions. There are just enough highlighted items (architectural features, native animals, and other cultural references) to make the map engaging and appealing without it becoming cluttered.
Having a map on the wall has definitely increased the children's geographic literacy and the Wallpops map is convenient and attractive.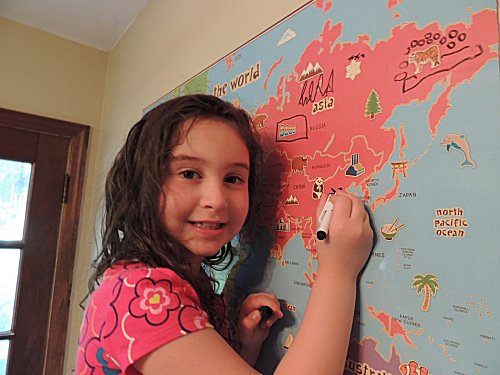 Get it here: Kids World Dry Erase Map ($21)

Disclosure: I received a map to review. I chose to share on Naturally Educational because I truly believe this is a quality educational material. Opinions, words, and images are my own.