Naturally Educational » 9-11 (Elementary), Featured, Literacy » Pipe Cleaner Doll — Hermione
My daughter has read and re-read the Harry Potter series so many times her paperbacks are falling apart. She is dressing as Hermione Granger this year for Halloween. Her class has an optional assignment to make a mini version of their costumes and my daughter wanted to create a pipe cleaner doll.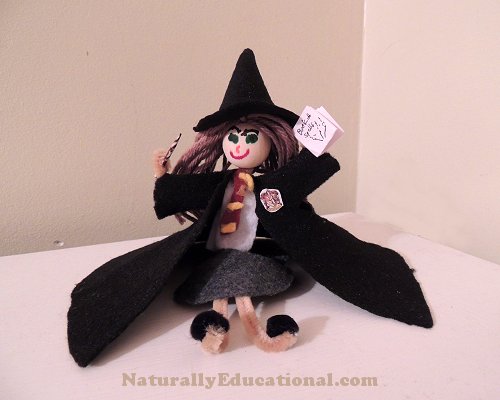 I love how this came out and we had a lot of fun crafting together. We've made pipe cleaner fairies in the past and used the same general plan.
First, she used permanent markers to draw a face on a wooden bead.
Then, she folded a chenille stem (pipe cleaner) in half and poked the folded end through the bead.
She took some brown yarn and looped it around about a dozen times and then threaded the yarn through the folded part of the  chenille stem that was poking through the wooden bead. Then, she tugged on the unfolded end of the chenille stem to secure the hair.
Then she took half of another chenille stem and twisted it around to make the arms.
She made the clothing out of felt, using hem tape and glue dots so we did not have to sew. Maybe later we can sew the felt more securely.
Add a printed Gryffindor patch, a toothpick wand, and a spell book, and Hermione is ready for Hogwarts.
You could make any favorite character this way–it was a fun afternoon project!

Filed under: 9-11 (Elementary), Featured, Literacy · Tags: Dolls, Halloween, Harry Potter