Naturally Educational » Common Core » #WhatIf Arne Duncan Listened to Teachers, Parents, Students, and Education Professionals?
Arne Duncan asked on Twitter, "What if every district committed both to identifying what made their 5 best schools successful & providing those opps to all their students?"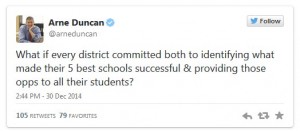 I always say that you shouldn't ask a question if you do not want to hear the answer–and that goes triple on social media.
Arne Duncan asked and people answered with over 42,000 tweets and counting, including over 15,000 tweets on New Year's Day.
What the politicians fail to grasp is that there is substantial literature on best practices but:
(A) what the DOE is pushing is not it.
(B) unfunded mandates and excessive testing are taking away the resources necessary to implement best practices.
Unlike the state tests, I will give you the answer right away–both choices are correct.
The Washington Post compiled some great responses and here are a few more:
#WhatIf we spent the millions that we spend on tests on musical instruments, gym equipment, books. You know. Actually on kids. @arneduncan

— Bonnie C. Margolin (@GatorBonBC) December 31, 2014
#whatif we let kinders play dress up instead of taking worthless standardized tests? @arneduncan pic.twitter.com/o0fuW90u1I — Badass Teachers Asso (@BadassTeachersA) December 31, 2014
#whatif @arneduncan, children got their lives back, their joy of discovery and a safe place to learn to think critically? Play is real. — Karen Lewis (@KarenLewisCTU) December 31, 2014
.@arneduncan #whatif dept of education staffed actual teachers instead of economists and political blowhards?

— allison carr (@hors_doeuvre) January 2, 2015
#whatif elem kids didn't have to take online tests before they learned how to keyboard. Crazy @arneduncan #TBATs pic.twitter.com/hSxcqm3SFn

— Nancy Osborne (@NancyOsborne180) January 2, 2015
#whatif teachers weren't pulled from instruction time to plan with people who do not work with actual students

— Arkansas BATS (@BATSJudy) January 2, 2015

Filed under: Common Core