Naturally Educational » 9-11 (Elementary), Charity, Health, Values Education » Will Your Kids Always Come Home? Our Influence on Our Kids' Values #Responsibility
Mini-Me
My daughter and I shared a laugh when I realized we both put on the same t-shirt, a fan shirt for one of our favorite books. With her bright orange fan-girl shirt, curly brown hair, and green eyes, she looked just like a mini-me.
Some days it is like looking in the mirror. My kids will use one of my phrases, with the exact same inflection. Depending on what they're mimicking, I either swell with pride or cringe and make a mental note to watch what I say in the future.
I don't need a study to tell me that I have a strong influence on my kids.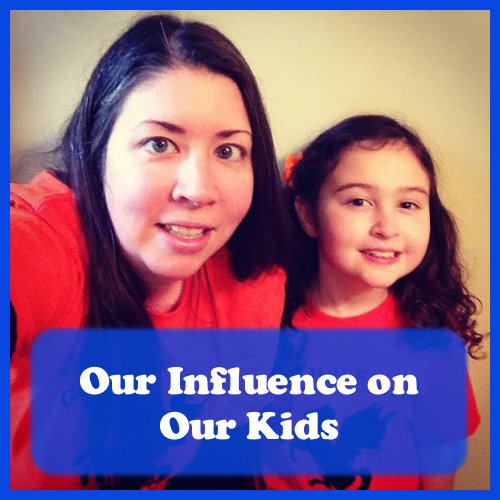 Pre-Teen Rebellion
Of course, in a few years, she may not be so thrilled to look just like mom. During their teen years, my kids will consciously rebel and reject some of that influence–that is just part of growing up. My preteen is already asserting her own individual identity in opposition to me and her father.
Some days I swear she would claim the sky is green and the grass is blue just to contradict me.
So, in addition to discussing "unsafe" behaviors, we've talked about safer ways to show herself and the world that she's growing up to be a unique individual. Most likely, she will not care about my opinion on her clothes, her hair, or the "is that what they call music these days?" tunes she'll play. Her peers will have a far greater influence on her than I will in those areas. She'll start to mimic their quirks or parrot things she hears on television.
Kids Listen When It Counts
Turns, out, though, when it really counts, teens do listen to their parents. One study suggests that 80% of teens believe parents have a say in whether or not kids drink alcohol.
Two separate studies show that parents are decidedly the strongest influence over whether or not kids drink.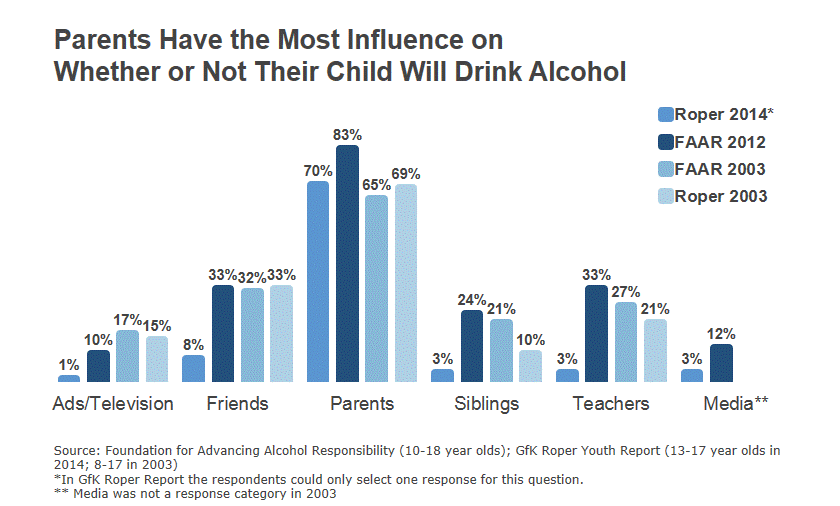 Yes, kids are influenced by peers and they are influenced by advertising–but they are anchored by and return to the core values their parents taught.
Start Talking
That's why it is so important that parents are good role models of responsible behavior. Children watch what we do far more than they listen to what they say.
If we tell them that we expect them to behave responsibly, and talk about healthy choices (rather than joke about binge drinking to de-stress), they are much more likely to make the right decision under pressure.
The more kids try to rebel against their parents, the more they are going to find themselves coming back to our core values. People are like homing pigeons that way. Although we venture far afield and try on new identities and attitudes, we eventually find ourselves tracking home. My kids might dye their hair shocking colors, turn the volume up to eleven, or break curfew a few times but when it comes to standing up to peer pressure, they are more likely to look to me and their dad.There are no guarantees in life. Good kids sometimes make bad decisions. However, by talking early and often, keeping the lines of communication open, and letting our kids blame us when they want to say "no" to peer pressure, we increase the odds that our kids will do just fine.
—
Disclosure: This post is sponsored by The Foundation for Advancing Alcohol Responsibility. All opinions are my own.

Filed under: 9-11 (Elementary), Charity, Health, Values Education