Naturally Educational » Featured » Buying a Guitar Online for a Musical Holiday Gift
One of the best presents you can give is the gift of music. Most toys and other presents just add clutter to the house but a musical instrument is a gift, an opportunity to learn, and an experience wrapped up in one present.
Sweetwater asked me to check out their online guitar, drum, keyboard, and professional audio equipment store and purchase an acoustic guitar from them: the Epiphone DR-100 Vintage Sunburst. Purchasing an instrument online saves you a lot of money but the lower price tag can be a trade-off. How do you know the instrument is the right one for you? How do you know it will arrive in good condition? How can you be sure of the quality and longevity of the instrument? Sweetwater offers a number of perks that make buying online a safer and more satisfying experience.
For an expert, Sweetwater allows a number of options for refining the search for an instrument. For newbies, there is a helpful guide about what could be an overwhelming variety of guitars on the market. I learned a lot about tonewoods and frets that help me make an informed decision in a guitar purchase.
The product pages have plenty of images, reviews, side-by-side comparisons… and some have expert video tours, as well!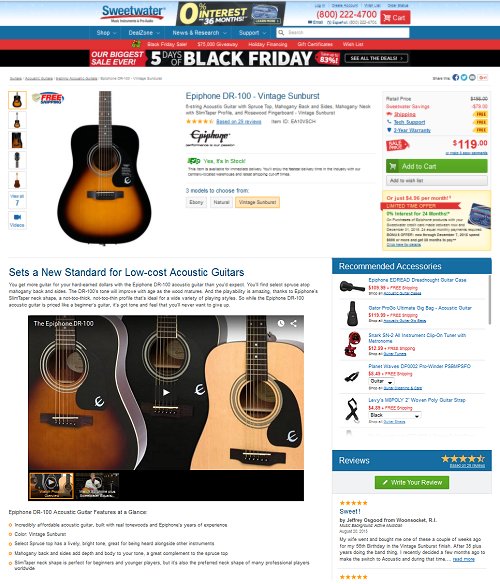 I selected this dreadnought for my husband, who has been wanting an acoustic so he can join in the music-making in our household. Usually, I purchase instruments for the kids, however, and I would have liked to have seen a marked section of "junior" instruments for smaller hands so I can easily select one. There are plenty of great options for kid guitars on Sweetwater–I would just love to see them all organized in one place.
Where Sweetwater really stands out is in its customer service. After I purchased the guitar online, a Sweetwater representative actually called me to see if I had any questions about my purchase. Sweetwater has a two-year warranty and is currently offering free shipping and free returns, which really sets my mind at ease buying an instrument "sight unseen." The company representatives are there to guide you the entire way through the purchase and beyond.
To ensure the instrument's condition, every guitar is un-boxed and inspected (my guitar arrived with a certificate telling me who inspected my new instrument) before shipping.  They even tune the guitar before sending it out. Our new guitar needed a little fine tuning after being shipped through the cold Northeast weather but was definitely close to pitch. A few months ago, I ordered a ukulele from another retailer. The instrument had not been tuned prior to shipping and I wasn't sure of the octave for each string as a uke newbie . I ended up snapping one of the strings and having to bring it to a local store to purchase another set of strings. While I am more familiar with guitars, having the instrument arrive pre-tuned was a huge help.
This is especially great if you are giving the guitar as a holiday present for a child–no one likes to wait to play with their gifts. You also don't want your kid overhearing Santa tuning up the night before.
Speaking of the weather, Sweetwater wants to make sure your guitar comes out of the package looking as amazing as it went in. So, they ask you to give your instrument four to six hours to acclimate to room temperature before you open up the package, if the guitar was shipped during extreme weather conditions. Hard as it is to wait, that's better than ruining your new instrument! The guitar was well-packaged and arrived in perfect condition.
Sweetwater even included some candy treats with this "sweet" guitar–a nice touch!
My son, the family guitarist, pronounced the guitar "cool" and can't wait to share it with his dad. It is a little big for him right now but I bet he'll be trying to steal the guitar from Dad in a few years!
This Cyber Monday, check out the deals on guitars at Sweetwater — you are sure to find a great instrument at an amazing price.
—
I received a Sweetwater gift card as part of my relationship with the Quality Blue Community. All opinions expressed are my own.

Filed under: Featured