Naturally Educational » Featured, History and Culture » Thanksgiving Picture Books
Here are some of our favorite picture books about Thanksgiving and Turkeys. These are the children's books my kids look forward to each year–I read them to my eldest two when they were younger and now they read them to their little brothers. Some of these books are historical, some reflect Thanksgiving traditions, and some are silly. I would love to hear about your favorite Thanksgiving picture books so I can add to my list!
The Very First Thanksgiving Day, by Laura Krauss Melmed, works backwards from the first Thanksgiving to the Mayflower in rhyming verse that builds on itself. Simply told, the book gives an overarching sense of the cause and effect of history.
This First Thanksgiving Day: A Counting Story, by Rhonda Gowler Greene, shows how pilgrim and native children might have helped their parents prepare for a big feast. The focus is on the bounty of the earth.
One Little, Two Little, Three Little Pilgrims, by B. G. Hennessy, builds on the well-known song to show Pilgrim and Wampanoag children working playing and celebrating. This book is a cute read for younger children who will enjoy singing along.
Littlest Pilgrim, by Brandi Dougherty, follows a young pilgrim who wants to help like the older children but finds everyone is too busy to teach her how to do the chores. Children will relate to the frustration of being told they are "too little" to help and learn basic information about colonial lifeways.
This Is the Feast (ages 3-8), by Diane Z. Shore, tells the story of the Pilgrim's journey, settlement, and feast in rhyming verse. Most pages have just a few lines, paired with detailed and vivid images, making it manageable for preschoolers and even more patient toddlers. The vocabulary, however, is varied and challenging enough for bright grade school students. The book is a fascinating introduction for young children to this episode in history.
Pilgrim Cat (Ages 4-8), by Carol Antoinette Peacock, helps young children relate to the story of the Pilgrims' journey and settlement by telling the tale through the eyes of a young girl. Faith Barrett befriends a cat she names Pounce and Pounce offers her comfort through the moldy food, frightening storms, and life-threatening illness that were part of the trying passage across the Atlantic. The book ends on a hopeful note with the first Thanksgiving feast.
Five Silly Turkeys, by Salina Yoon, is a funny little counting rhyme. You won't learn much about turkeys but toddlers will enjoy counting along. And the crinkly feathers have a fun texture babies love to touch.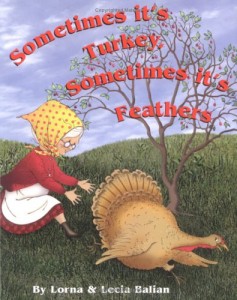 Sometimes Its Turkey, Sometimes Its Feathers, by Lorna Balian, is the story of an elderly woman and her cat, who watch their turkey chick devour food all year in anticipation of a fat bird for their Thanksgiving Feast. When the day arrives, the woman realizes she just can't serve up their friend for dinner. My children were very amused by this story and were surprised by the ending. They also loved seeing all the traditional Thanksgiving foods laid out on the table–minus the turkey, of course.
Gobble, Gobble, by Cathryn Falwell, illustrates a flock (or rafter, or gobble) of wild turkeys throughout the year in a young child's back yard. We also had the good fortune of spotting a trio of wild turkeys in our yard earlier this year, although they have not been back, and my children are fascinated by the birds. The text describes what the turkeys are doing in each season. Although the narrator is a young girl, there is not much of a storyline beyond the birds' habits. At the end, there are some interesting facts about turkeys and tips for starting a nature journal and creating collage pictures.

Filed under: Featured, History and Culture · Tags: Native American Culture, Pilgrims, Thanksgiving, Turkeys