Naturally Educational » Entries tagged with "Disney Social Media Moms"
June 29th, 2013 | 2 Comments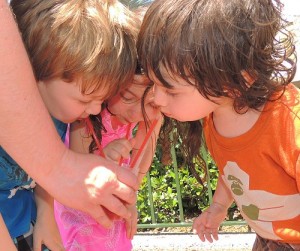 Trying to Eat Healthy We try to eat healthy around here. Unlike some people I admire very much, however, it isn't my main passion or cause. We buy some foods organic, others not. We buy local when we can, but we aren't a member of our local CSA share (despite knowing a woman who runs an organic farm that serves as a the local distribution center) and we do not grow our own produce. There are … Read entire article »
Filed under: Bodily-kinesthetic, Health, Health, Home Arts
May 18th, 2013 | 2 Comments
"Lead with your values" is good advice for a well-lived life. As it turns out, it is a good practice for brands, too, according to Jackie Huba, author of Monster Loyalty: How Lady Gaga Turns Followers into Fanatics, and a speaker at the Disney Social Media Moms Celebration. Throughout the Celebration / Conference, Disney took the opportunity to highlight the company's values. As someone who has admitted ambivalence about the "princess culture," and as a … Read entire article »
Filed under: All Ages, Media, Values Education
Connect and Discuss
Subscribe by E-mail
Browse Categories
About the Author
Candace Lindemann is a published children's writer and educational consultant. She holds a B.A. from Yale University and an M.Ed. from the Harvard Graduate School of Education.
Working with school districts around the country and some of the most well-known companies in the education industry, Candace creates custom strategies, textbooks, and lesson plans. Her articles have appeared in print and online.
While Candace's degrees prepared her for a career in education, she's found that the best preparation for parenting is on the job training.
Contact Candace
via e-mail
, read her
full biography
, or connect with her using the social media icons below or on
Google
.
© 2018 Naturally Educational