Naturally Educational » 3-5 (Preschool), 5-6 (Kindergarten), 6-8 (Early Elementary), 9-11 (Elementary), Featured, History and Culture, Home Arts » Witches' Hats Cookies
I saw these adorable witch hat cookies on Pinterest but the link just led back to a photograph. As far as I can tell, the photo I saw originated from Explore. Dream. Discover. but I couldn't track down any specific instructional post.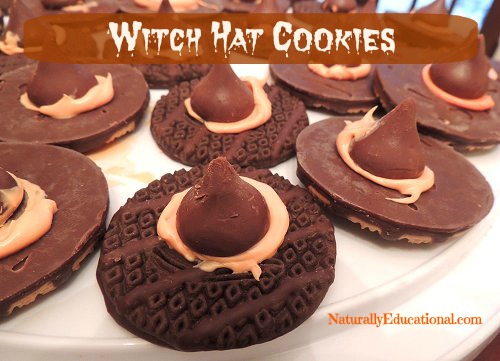 We made these to go along with our chocolate pretzel bats for my daughter's Halloween play date. I let the kids make them so they aren't perfectly even but I still think they turned out cute!
Ingredients:
Keebler Fudge Stripe Cookies (or other flat, round cookie that has at least one side covered in chocolate)
frosting
food coloring
Hershey Kisses
Directions:
1. Mix the food coloring and frosting until it is the color you desire. (This is a great lesson in color mixing.)
2. Apply a big dab of frosting to the bottom of an unwrapped Kiss.
3. Place the Kiss on the center of the cookie and twist to spread the frosting around a little.
Educational Connections:
Art: Experiment with color mixing with the food coloring. Make some hats with purple or green brims, too.
Fashion / Culture: No one knows for sure where the witch hat originated. Find examples of other pointy hats throughout history and representations of witches.

Filed under: 3-5 (Preschool), 5-6 (Kindergarten), 6-8 (Early Elementary), 9-11 (Elementary), Featured, History and Culture, Home Arts · Tags: Cooking with Kids, Halloween, Kids in the Kitchen, Witches