Naturally Educational » 5-6 (Kindergarten), 6-8 (Early Elementary), 9-11 (Elementary), Featured, History and Culture » Pilgrim Hat Treats for Thanksgiving
Mostly this is just a fun little no-bake treat for the kids to make for Thanksgiving but I do have a few educational connections at the end–did Pilgrims really wear buckles on their hats?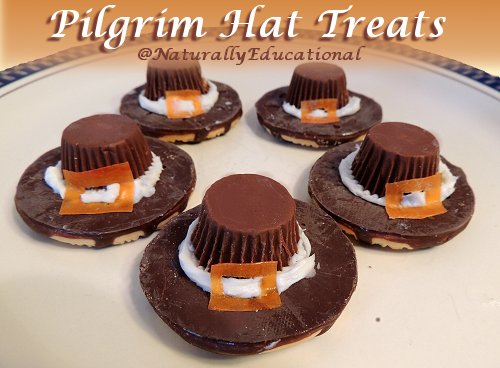 This is the "Pilgrim" version of some witch hats we've made before and they are very simple to make.
Ingredients:
chocolate or fudge stripe cookies
peanut butter cups (my son substituted a Dove chocolate for his peanut butter cup)
icing
orange fruit leather
Directions:
1. Unwrap the peanut butter cups and put some icing on the top.
2. Push the peanut butter cups onto the cookie so it creates a "hat band."
3. Cut fruit leather to look like buckles and add to the hats.
Educational Connections:
History and Culture: Who were the Pilgrims and why did they come to the new world.
History and Culture: Buckles on hats did not become popular in England until after the Pilgrims left. Given that the Pilgrims were not very wealthy and dressed plainly, they would not have been likely to adopt this style. The black clothing was also primarily worn for church days. People tended to wear their nicest clothing for portraits so that is the image we have of Pilgrims today. Can you think of other examples where clothing reflects the beliefs or status of the wearer?

Filed under: 5-6 (Kindergarten), 6-8 (Early Elementary), 9-11 (Elementary), Featured, History and Culture · Tags: Kids in the, Pilgrims, Thanksgiving